Relevant Links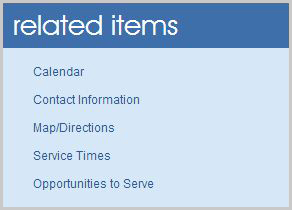 On certain website designs, general pages in the Master Group may show a list of "Relevant Links" in the side column (may also be called Related Items, Related Pages, For More Info, etc.). This feature is designed to allow your visitors to find/discover other information on your website that has some connection to the page being viewed.


There is very little maintenance required for the Relevant Links engine - it basically runs itself. The Relevant Links are determined by the keywords entered for a page. The main thing to remember is that you need to add good keywords to each page as you are editing (see Page Keywords). Once you have added keywords to a page, the system will constantly keep track of other objects on your site that are related, and display pages in the list that have the same keywords as the page you are viewing.

The Relevant Links list will show a maximum of 5 items. The precedence for finding related items is as follows:
First, look for relevant items within the current group/subdivision/ministry
Then, look for relevant items in other groups/subdivisions of the website
Forcing two pages to appear as "relevant"
If you want to ensure that two pages always show up in each other's Relevant Links lists, then use the Force attribute. You will need to add a specific keyword to the Search Engine/SEO section of related pages, preceded by the term "force". For example, if you add "force movies" to two pages, then they will have a direct relationship and will show up in each other's Relevant Links list.


Note: For groups other than the Master Group, all active pages of a group will automatically show in the navigation box which will be the group name. For example, if the group "Ministries" contains the pages: Children, Youth, Men, Women, each page (Children, Youth, Men, Women) will appear in the box with the title of Ministries.