Choosing a Page Layout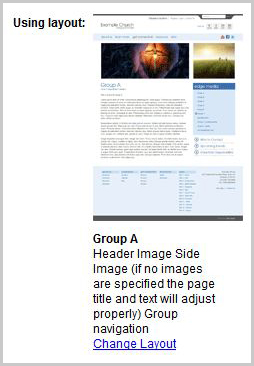 When you are working in the Page Editor screen, the current selected layout for your page will be indicated in the Settings panel on the right side. You will see a thumbnail preview of the layout, as well as a description.

To change the layout for your page, click the "change layout" link in the Settings panel, and a list of all available layouts will be available in the pop-up window. Select the icon that represents the type of layout you desire, and click the "OK" button at the top of the window.

For instance, you may want to choose a page layout that has images in the header or side area, or one that allows for quotes, etc.