Giving Categories
On your giving platform, users can donate to multiple funds/campaigns within one transaction. You can create as many categories as you'd like; however, users will be limited to a maximum of 3 funds per transaction.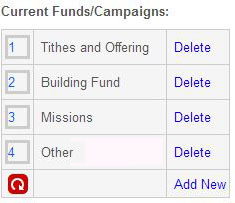 To add your categories, login to the giving portal (http://secure.siteorganic.com) and click the My Account tab. The 4th item on this screen will list your funds/campaigns. NOTE: if you do not see the My Account tab in your giving portal, please contact your website administrator. Your user permissions will need to be updated to include this option.

You can add an item by selecting the "add new" link, and a field will appear for you to specify the name of the category. The order in which your items appear in the giving portal will determine how they are listed within the dropdown on the site. To re-order the list of items, type the desired number in the open field preceding each category, and then click the red refresh arrow on the bottom left.